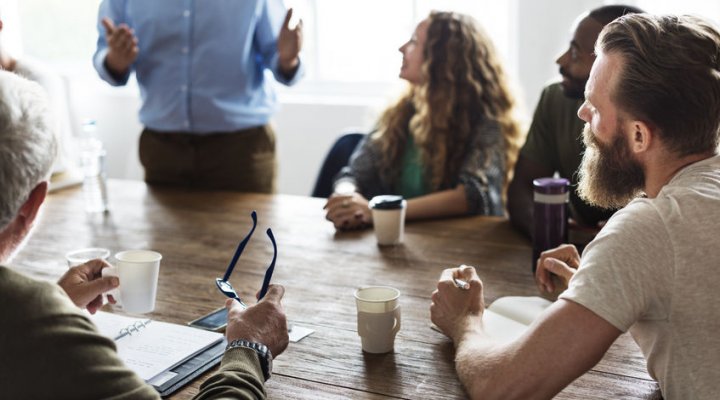 Reasons to go networking
Category: Marketing | Date: | Author: Sarah Fielding
Picture a room full of tired, middle-aged men in grey suits. They're attending a civilised breakfast networking meeting in Oxford's exclusive Randolph Hotel. They're there for three reasons and three reasons alone:
1. Coffee
2. A full English
3. A chance to talk shop with their chums.
This was one of my first ever networking experiences, and it was apparent from the moment I launched myself into the room armed with my freshly printed business cards and best smile, that these chaps had absolutely no interest in little old me. If it wasn't for what happened next, I might never have attended another networking meeting in my life. Which would have been regretful.
Like a lot of networking meetings, the morning's agenda included a 15 minute 'presentation' from a local business. The purpose – to promote their services and add some "value" to proceedings. And value it provided. Sheer entertainment value! But without the benefit of hindsight, and given that the room was full of bankers, lawyers and accountants, I poured a second cup of coffee and prepared to contemplate my naval for 15 minutes.
That was until a lycra-clad lady leapt from nowhere to the front of the room, commanding attention from all corners with her sheer energy and exuberance - that and her strangely wild eyes and beaming grin. Like a lot of the gentlemen in the room, I assumed that the Green Goddess had got the wrong venue. That was until she announced that we were all to participate in some 'on-the-spot-aerobics' to get our blood flowing! Well, she had my attention right there. This was going to be hilarious!
I can't think of many situations more bizarre or utterly ridiculous than seeing a room of 50 gents, reluctantly surrendering their knives and forks in order to stand up and gyrate their stiff hips to the beats blaring from the instructor's portable music system. But, give them their due – they did just that. The looks of total shock, embarrassment and bewilderment around the room will stay with me until my dying day. I don't think most of them realised quite what they were committing to until it was too late and they were on their feet.
For me the experience was less about blood flowing, and more about stifling the tears that were flowing. I struggle to hide my childish amusement at the best of times, and this was comedy gold. I'm not sure the lycra-clad lady picked up any new clients that morning, but it certainly put a spring in my step and a keen desire to get to my next networking meeting ASAP!
That was 14 years ago, and the reason I'm sharing this today, is because having recently relocated to Leamington Spa, I've dipped my toe back into the networking pool – and thoroughly enjoyed it! So in this month's main article, I'm going to talk a bit more about networking – the good, the bad, and the hilarious!
Reasons to go networking
I'm afraid I can't promise entertainment on the level I described in my introduction, but there are plenty of other VERY good reasons why, as a business owner, you should try networking. The general premise of networking is to build contacts. The important point to remember is that doesn't just mean new customers. There's so much more to it than that.
I must confess, when I established Write Impact 14 years ago, I went networking with the sole purpose of finding new clients. I certainly ticked that box, and the network I built in Oxford still brings me referrals to this day, but I also found my first accountant and a whole supplier base including designers, illustrators, printers, IT support etc that have proved invaluable to my business. I also landed a lovely mentor, who was an established freelance copywriter that was happy to offload advice to me, as well as work.
Try it, you might like it
Networking meetings come in many different flavours and formats. It's a case of finding ones that you enjoy and that meet your business needs. Most towns have numerous business networks to choose from. My advice would be to attend as many as you can. Not only will you start making local contacts, but it will give you a chance to find the format and group of people that's right for you.
Most networking meetings are held either over breakfast, lunch or in the evening. Some offer a simple rock-up and pay as you go option, whilst others charge membership fees. The ones with memberships fees will usually actively encourage you to attend as a visitor once or twice before you decide whether to join. If they don't, well, that's not really in the spirit of networking and I'd write them off and consider it their loss.
Some networks only allow one 'member' per discipline – so one accountant, one business coach, one solicitor. You get the picture. I personally think that format is limiting. Meeting people in the same sector and with similar or complementary skills can be extremely useful. Over the years I've met other marketers and copywriters that have provided me with work, or that I've been able to outsource to or collaborate with. I also wouldn't want to feel obliged to refer my contacts onto someone, just because they're in 'my network', especially if I didn't actually rate them. But some people like the format as it means they don't have to 'compete'. As I said, you've got to figure out what works for you and your business.
What can I expect?
From my experience – always expect the unexpected and go with an open mind. Last week I attended a fabulous 4N networking meeting in Leamington Spa and most of the people rocked up wearing false beards and baldheads. And this was at breakfast. There was an explanation, which I won't go into, but suffice to say it was very amusing and set a very light tone for the meeting, which I enjoyed.
With the exception of the meeting that I described in my introduction, most networking meetings are incredibly welcoming, supportive and friendly. After all, everyone is there for the same reason – to meet people. A lot of the attendees will already know each other, so a fresh new face, is usually quite a draw. If they're a good 'network' you'll be immediately made to feel at home and introduced to some faces that are keen to know who you are and what you do. But don't forget to reciprocate and find out about them!
Most meetings involve some kind of presentation – either from an invited speaker or by someone from the group. If you're lucky they'll be educational or inspirational. If they're not, then you can always use the time to plan what you're going to have for your supper that night.
Still not convinced?
I get it. A lot of people would rather stick forks in their eyes than spend two hours making small talk with complete strangers. I for one really enjoy meeting new people, but if the thought of it has you reaching for the cutlery drawer, then here are a few more reasons to take the plunge.
You're joining an extended network
This isn't just your opportunity to promote yourself and your business to the people in the room – you're promoting it to their extended network as well. They might not have an immediate need or desire to invest in your product or service. They might never need it, but they probably know someone who does.
Similarly, you're very likely to know someone who could make use of the products or services being represented in the room. I've introduced friends to car sales people, travel agents, tree surgeons, decorators, picture framers, accountants, florists, event coordinators, business and life coaches – all that I've met networking. You're doing your friends a favour, as well as supporting a local business.
It's an education
You're guaranteed to learn something. I know I joked about the possibility that the 'presentation' element might leave you yawning, but in most cases, you usually pick up a useful business tip or two. More importantly, as you build your network you'll discover what's going on in the business world where you live. You'll learn about other networks and events that you can attend and get involved in. Local businesses like to support each other, so it's a very useful circle to tap into.
You're not alone
If, like me, you work alone, life can be pretty solitary. Getting out there into a room full of people who are passionate about what they do and buzzing with energy can really make a difference to your week. I literally skipped out of the 4N networking meeting I attended as a visitor last week and had a very productive day as a result. What's more, if you stick at it, and become 'part of a network' you'll find that very soon you have a team of cheerleaders and supporters who have got your back. That's what it's all about.
So, whether you're new to networking, or like me, you haven't tried it for well over a decade, my advice would be to step away from the cutlery drawer and give it a go. Next month I'll share some tips on how to get the most out of your networking! In the mean time I'm heading off for another visit to a different 4N networking meeting – and really looking forward to it!
*photo credit Copyright: rawpixel / 123RF Stock Photo