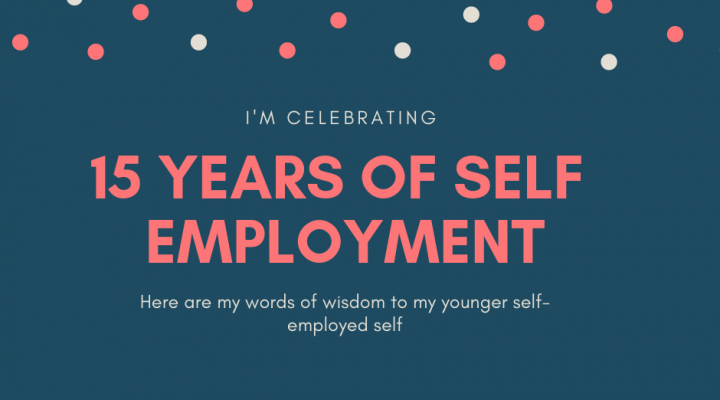 Words of wisdom to my younger self-employed self
Category: Write Impact news | Date: | Author: Sarah Fielding
This month I'm celebrating 15 years of self employment. I use the term 'celebrating' loosely, because if I'm honest, the anniversary completely passed me by. I only realised I'd nearly missed a milestone when people on LinkedIn started congratulating me. Thanks for the heads up guys!
A lot's happened in the last 15 years and I'm certainly not the same freelancer that I was when I established Write Impact in 2004. It got me thinking about the lessons I've learned over the years, and what advice I would impart on my fresh faced 28-year-old self. In true copywriter style, I put pen to paper and thought I'd share my brutally honest musings.
Here we go – my top 15 pieces of advice to my younger self...
Don't do it. Find the funds and retrain. You're a sociable and active person and sitting hour after hour on your own behind a desk is not the ideal job for you. Have absolute faith in your commitment and ability to be self employed, but find a role that is more interactive. (To be fair, that would probably be the end of the conversation, but seeing as I didn't take a different career path and 15 years down the line I'm completely committed to my craft and my clients, here are some more of my words of wisdom).
Don't listen to anyone who suggests you'll be more productive if you lease an office. You won't. You'll get far more done when you have the flexibility of working from home, without any distractions and without feeling obliged to go to the office.
Working from home is a solitary business, but keep reminding yourself of all the plus points. You can be at your desk within ten minutes of waking up. You can benefit from a little siesta if you need it. You can be 'in' for most deliveries, but be aware that they'll always turn up when you're on a call. Don't tell your neighbours you work from home or you'll be accepting all their deliveries too.
Have a back-up plan/place to work for when your Internet goes down. It'll only ever go down when you're on a deadline.
You do know what you're doing and what you're talking about, but you'll have to bluff confidence in your abilities for at least the first 10 years.
There's nothing that beats the feeling of winning new clients and business, especially when you are the only person who can take the credit for it.
Not having a fixed cap or ceiling on how much is in your pay packet each month is fantastic – but only when you've had a productive month.
There will be times when you simply don't have enough hours in the day and days in the month and you have to turn down work. There will also be years when you enjoy a consistent client base and steady flow of work. But there will also always be lean periods and no matter how long you are self employed you will never be able to just relax and enjoy those quiet times. Try as you might.
You are unlikely to ever take more than one week's holiday at a time. Holidays cost you a lot more than when you were salaried because you always have to factor in loss of earnings. On the plus side, your boss will never decline your holiday request.
No matter how much notice you give your clients that you're taking a holiday, they'll inevitably leave a critical job to the very last minute and have you working right up until your flight takes off.
Get in with a client who throws a good works Christmas party and will invite you along. A Christmas party for one is pretty pathetic. If you do have a Christmas party for one, don't bother with the Christmas cracker.
Your clients will become so much more than just clients. They will be the first people you think about when you wake up and the last people you think about before bed. Your regular clients will become some of the people you value most in this world. They're the people who trust you, value you and rely on you. They're the people who have the ability to make you feel brilliant and confident, and they're the people who can turn your day from great to disastrous - and vice versa. Never take them for granted.
Be flexible. You may think you know what service you're offering when you start out, but you'll end up doing something a bit different. That's ok. It's good to evolve.
Invest time in working on your business model and adjust it as you go. If you know what sort of work you want and need, then it'll be easier to go after it and recognise it when it lands in your lap.
You will experience major highs and major lows. Take the time to recognise those moments when you think 'yes, this is what it's all about' and when you're struggling remind yourself that there are more highs to come. Highs and lows are always temporary. Most of the time you're just going to be ticking along and making a living.